FOCUS ON OUR WORK
International Award Winning Wine Sales
The company Oïnos approached us to create its online image and to enable it to start selling its products internationally. The objective was to obtain an efficient website adapted to its marketing positioning: the sale of award-winning wines (carefully selected by specialists in the field) with worldwide shipping. Our team developed an optimal strategy to enable the brand to control its image and attract and serve the right customers.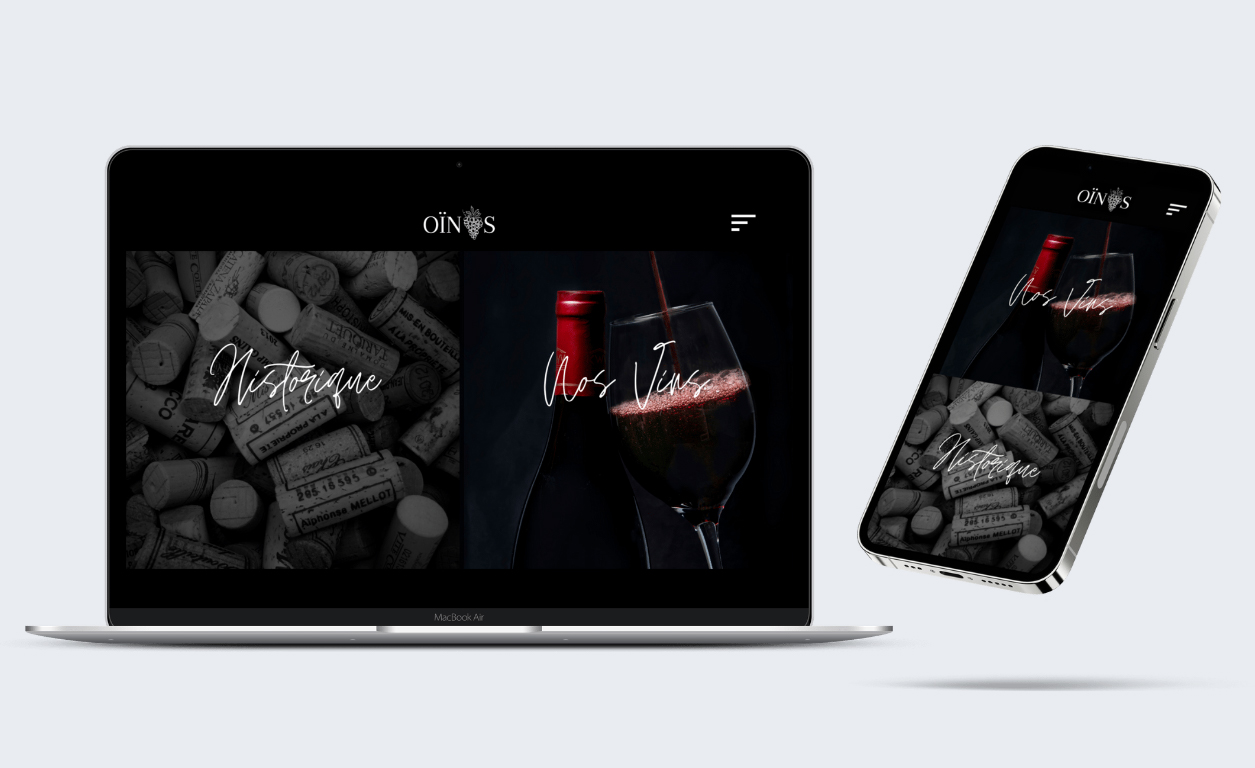 Going to the Basics to Deliver the Right Message
Our designers have designed the Oïnos website in such a way that its customers can find the information they are looking for and place an order in the simplest way possible, while at the same time conveying an appropriate brand image at first glance.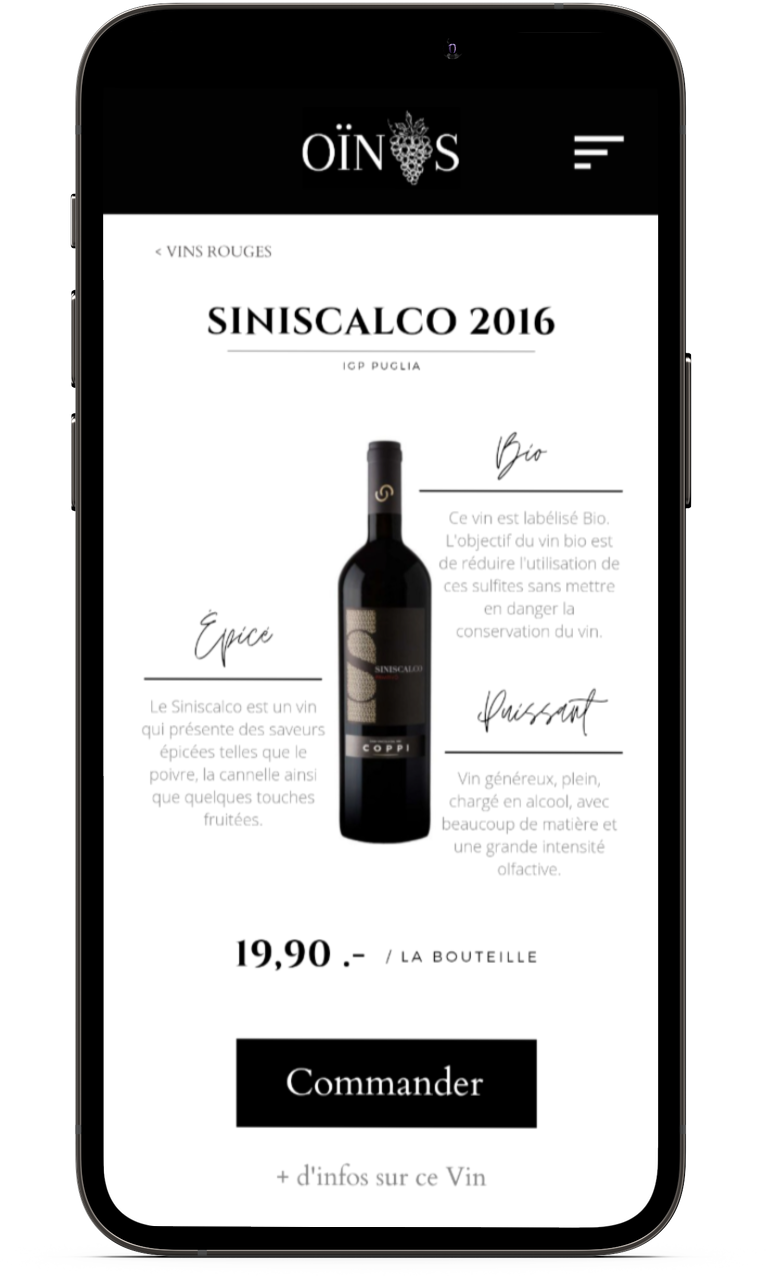 The Product is Placed at the Center of the Experience
A good e-commerce site must be able to add value to the products it sells. Even more so for a brand that targets a demanding customer base. Our UX designers and developers have worked together to create a seamless customer experience that really highlights the product and its features.
BRANDING
Controlling Your Image to Position Yourself in a Competitive Market
The online wine market is highly competitive. Since the pandemic, this sector has been expanding rapidly. Wine merchants but also winemakers are getting more and more involved in e-commerce. In this context it is absolutely crucial to differentiate oneself. This involves the offer, the marketing strategy and the website itself. The latter is the cornerstone of the business and must therefore be perfectly worked out.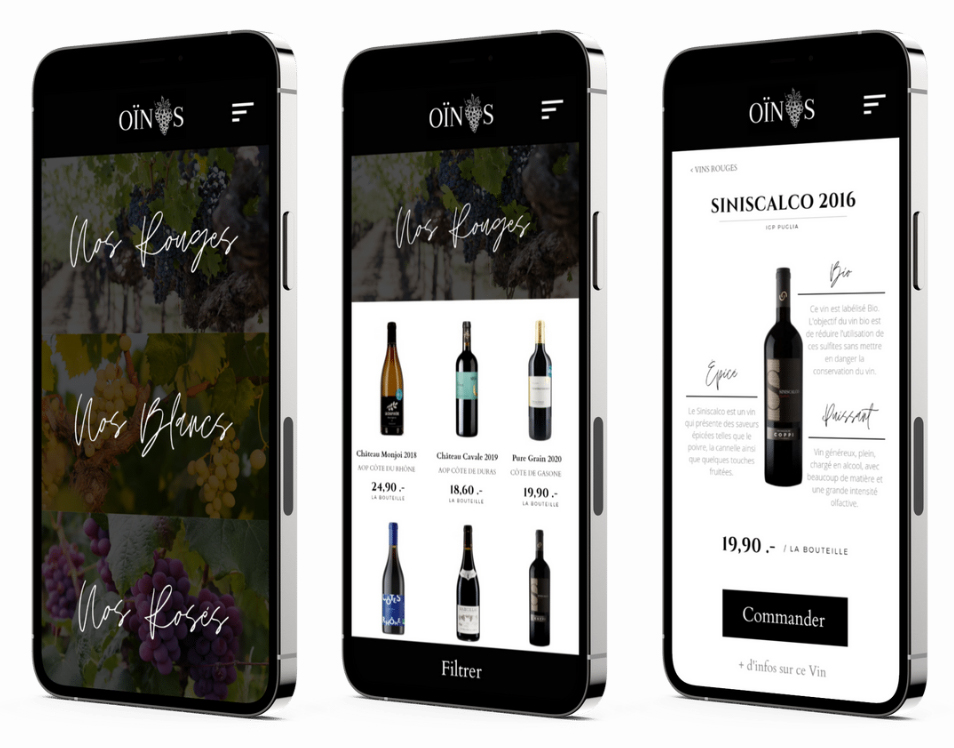 Browsing a Catalogue Becomes an Experience
In order to stand out from the competition, it is important to design your site correctly, from the very beginning of the project. This requires the intervention of a multidisciplinary team. For Oïnos, our specialists designed and implemented a fluid and coherent navigation allowing the client to browse the wine catalogue in the most intuitive and pleasant way possible. All this while highlighting the spirit of the brand.
Want to Be Accompanied by Our Experts?
CONTACT US
Let's Talk About You
A few lines are enough to start the conversation! Write to us and one of our specialists will get back to you within 24 hours.
Let's Give Life to Your Project, let's Propel Your Company.
We are passionate about innovation, bright ideas and implementation that bring every project to life. If this is also your case, call or write to us to get started now.
SUBSCRIBE
Don't miss Our Strategists' Advice
Get our insights, the latest digital strategies and best practices in marketing, growth, innovation, technology and branding.
Make a difference, work with Edana.
Your 360° digital agency and consulting firm based in Geneva. We support a demanding clientele throughout Switzerland and create tomorrow's industry leaders.
With over 15 years of multi-sector expertise, our multi-disciplinary team orchestrates tailor-made solutions adapted to your specifics.
Contact us now to discuss your goals: