FOCUS ON OUR WORK
Building the Future of Recruitment in the Hospitality Industry
The start-up StaffAndTaff.com contacted Edana to design its project from strategy to execution and from engineering to market launch. Our teams took charge of the project in several stages: market research, business model, branding, user experience, layout, development, go-to-market strategy and marketing execution.
Orchestrating a Product Market Fit
Our marketing team began by conducting market research and producing strategic recommandations to determine the business opportunities associated with the development of the application. The business model structure was designed in collaboration with our experts in digital platforms and business models. This was followed by the design work and development of the Go-to-Market strategy.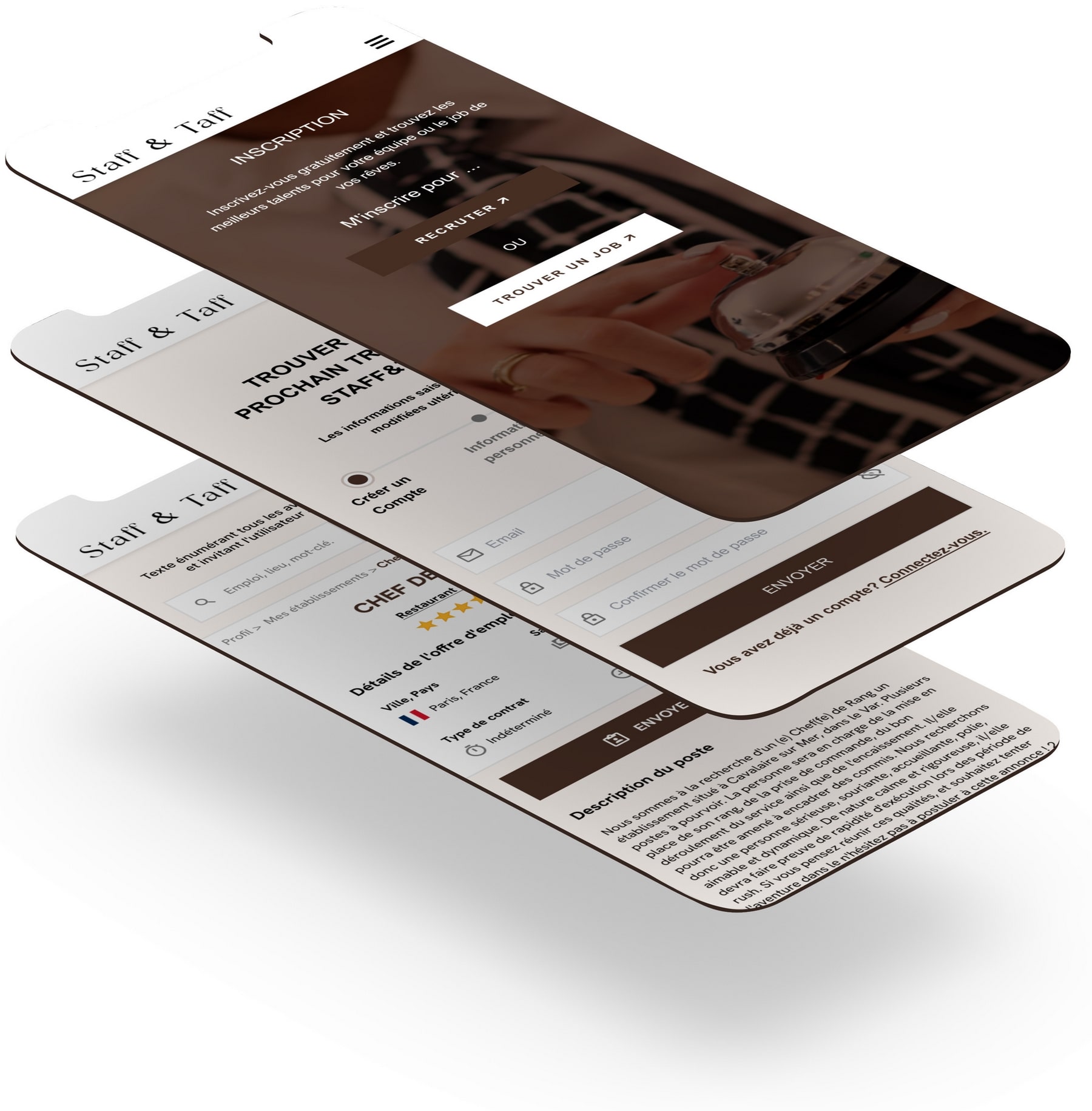 Personalized, Intuitive User Paths
The user experience was designed to optimize the platform's conversion rates (percentage of users completing the entire registration process, percentage of recruiters taking out a subscription, etc.). To this end, personalized flow wizard paths were integrated.
BRANDING
Strategy and Brand Identity
Our branding and branding experts developed the startup's visual identity. Starting from a blank sheet of paper, and based on their in-depth research of the market and target customer, our teams designed a unique, striking branding that embodies the innovative spirit of the platform. This branding work gave Staff And Taff a distinctive presence on the market, in preparation for the development of the mobile application.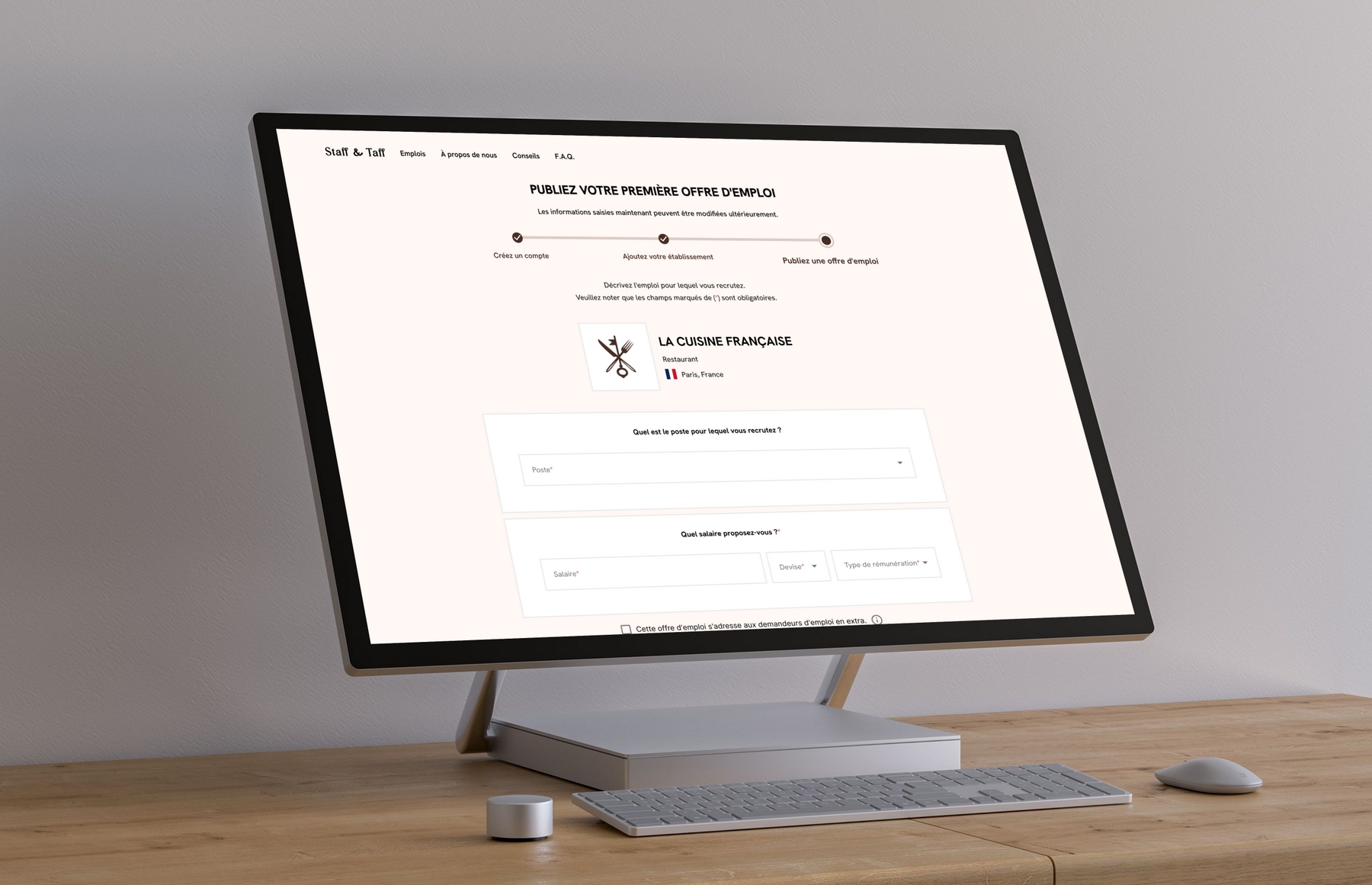 A Cross-Platform Application Transforming the Hospitality Industry
Hiring and finding a job in the hospitality industry has never been easier. The application offers browsing experiences adapted to each type of user, and can be used on different types of device (smartphones, tablets and desktops). Our experts in UX, UI, software engineering, application development, marketing and digital business model have designed a solution that simplifies job and talent searches, and is at the heart of the industry's technological transformation.
ORGANIC GROWTH
Cutting-Edge SEO Strategy
To support and fuel Staff And Taff's growth, our SEO experts devised an innovative strategy to capitalize on organic search in the job and talent search sector. Listing pages by township, department and city were generated automatically and optimized for search engines. Coupled with a referencing system within the Google Job search engine, an advice section dedicated to inbound marketing and a meticulous inbound link acquisition campaign, this solution equips Staff And Taff to take its place in a highly competitive market.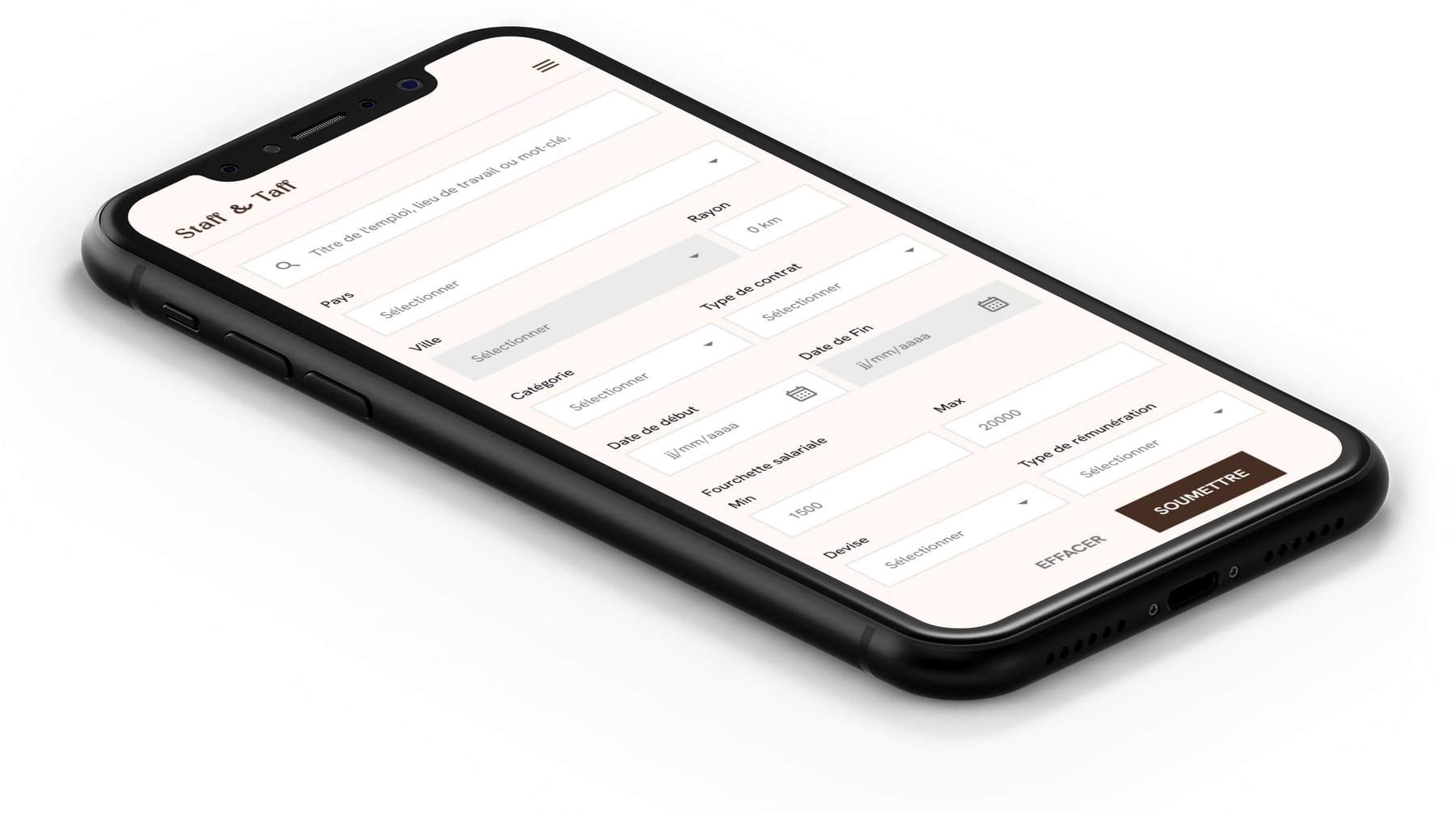 An Advanced and Intuitive Job Search Engine
Our software engineers have designed a revolutionary job search engine for Staff And Staff, conceived and developed to offer an advanced, intuitive and high-performance experience. Finding your ideal hospitality job is now possible in the blink of an eye, thanks to this powerful, user-friendly platform that simplifies the job search and lets you explore a new way of finding exciting professional opportunities.
GO-TO-MARKET
Millimetric Marketing Strategy for Market Penetration
Our digital strategy and marketing team has devised a tailor-made strategy and marketing plan to propel Staff And Taff into the recruitment market for the hospitality industry. Thanks to an adapted and innovative approach, we aim to accelerate the platform's growth and attract a large audience of employees and recruiters. Our goal is to conquer the market with a high-performance marketing strategy tailored to the specific conditions of the start-up and its positioning.
Want to Be Accompanied by Our Experts?
CONTACT US
Let's Talk About You
A few lines are enough to start the conversation! Write to us and one of our specialists will get back to you within 24 hours.
Let's Give Life to Your Project, let's Propel Your Company.
We are passionate about innovation, bright ideas and implementation that bring every project to life. If this is also your case, call or write to us to get started now.
SUBSCRIBE
Don't miss Our Strategists' Advice
Get our insights, the latest digital strategies and best practices in marketing, growth, innovation, technology and branding.
Make a difference, work with Edana.
Your 360° digital agency and consulting firm based in Geneva. We support a demanding clientele throughout Switzerland and create tomorrow's industry leaders.
With over 15 years of multi-sector expertise, our multi-disciplinary team orchestrates tailor-made solutions adapted to your specifics.
Contact us now to discuss your goals: