FOCUS ON OUR WORK
Design and Marketing of the HorseCare24.com Platform
The start-up RB Horses Sàrl has an innovative project for a digital platform in the world of horse riding. Its founders contacted us to discuss our software engineering and digital marketing solutions. We quickly got in touch and were entrusted with the entire project. We implemented the most modern web development technologies and designed the web application they wanted. We accompanied them every step of the way with our digital business expertise and are currently responsible for the platform's marketing strategy and implementation.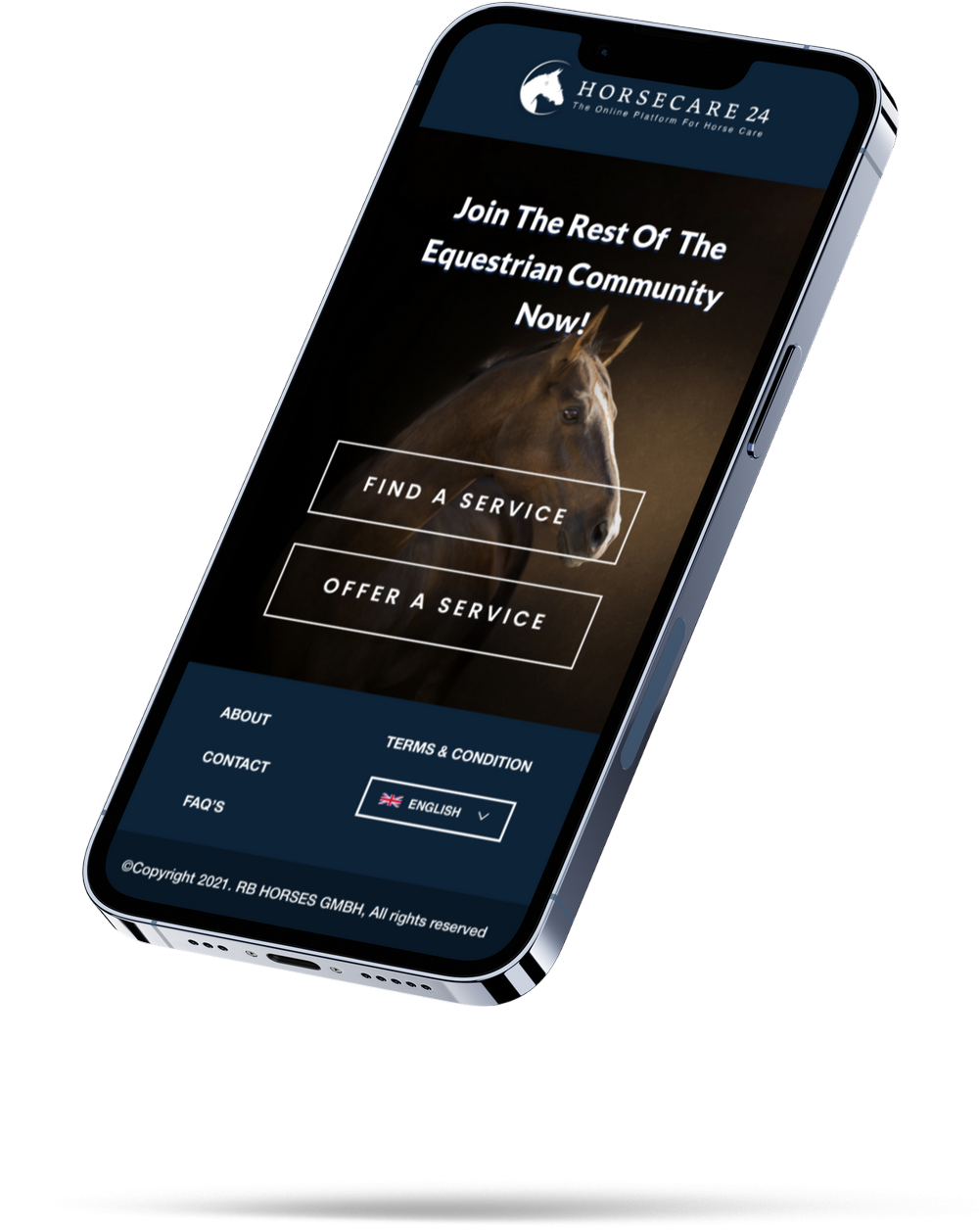 Multi-Language Marketing and Platform to Conquer International Markets
Nowadays, when you have an innovative idea, it's crucial to implement it and distribute it to as many people as possible as soon as possible. We therefore thought of the platform as a clearly international solution from the start of the project.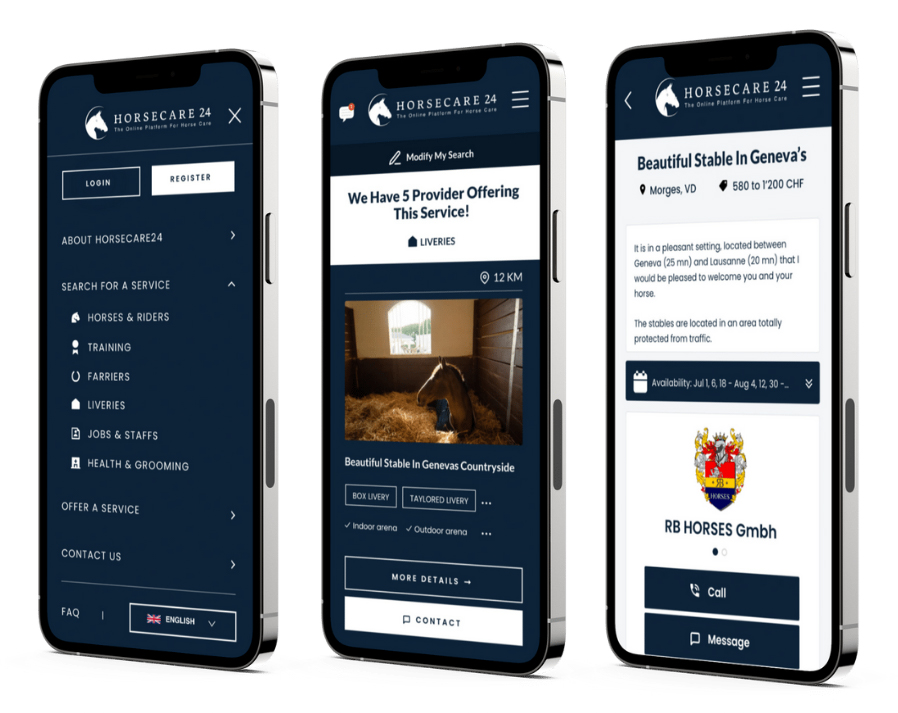 An Interface Designed to Drive Performance
An application of this magnitude needs to convert its visitors into customers as much as possible, especially in order to be able to implement a really profitable customer acquisition strategy. To this end, our team has designed and developed an appropriate UX. Our front-end developers, web designers and digital marketing specialists worked together to deliver an optimal user experience.
SEO STRATEGY
+800% increase in Google Rankings
To be able to claim its place as a reference leader in the field of horse riding in Switzerland and internationally, Horse Care 24 must invest in a consistent and adapted SEO strategy. Our SEO experts have designed a unique solution with our developers to generate a large number of highly optimised pages in order to gain strategic positions in a short time. A large off-site SEO campaign is also managed on a day-to-day basis by our teams.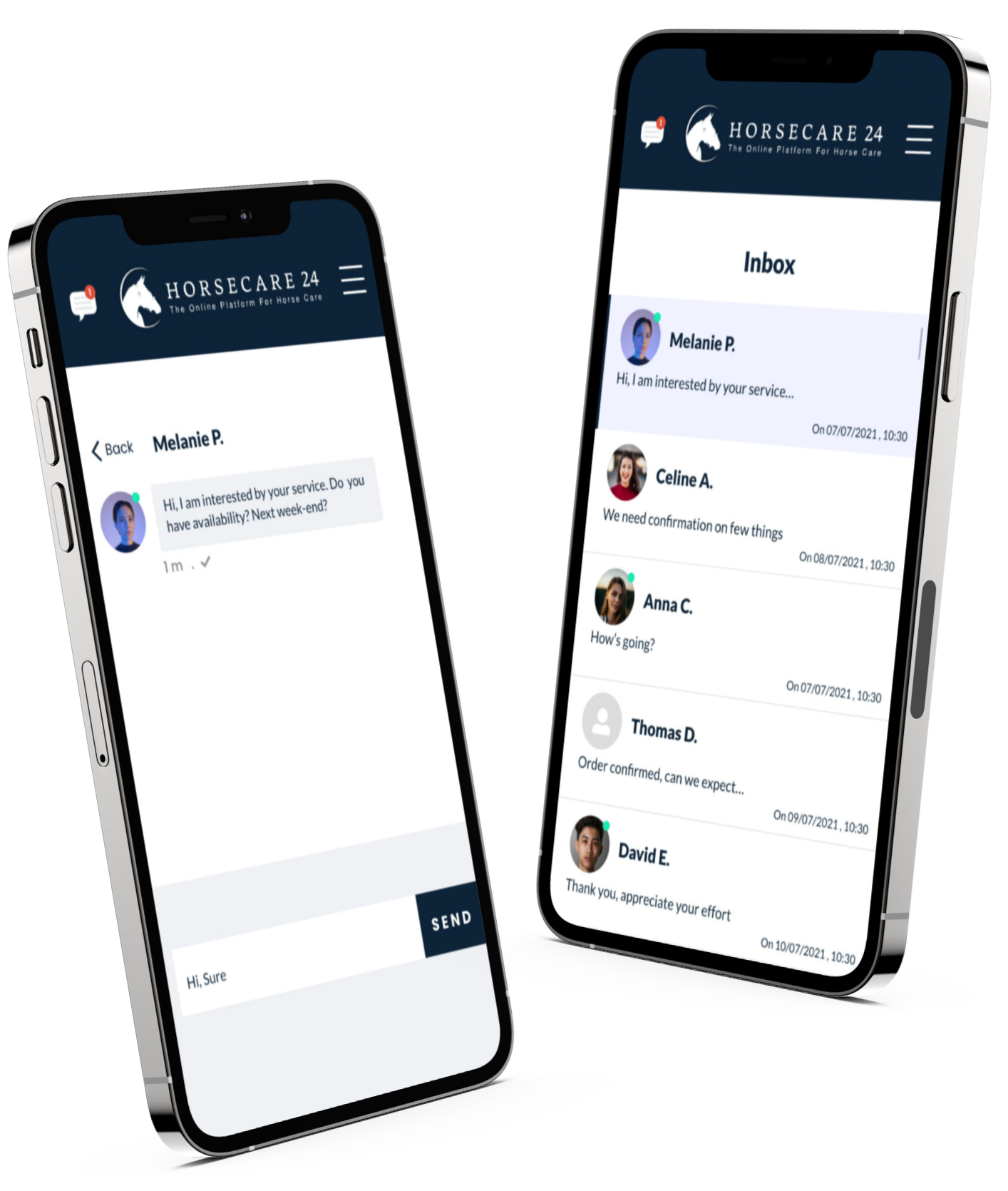 A Dynamic and Reactive Marketplace
In order to penetrate a market, every detail counts. There is no point in attracting a large number of users to an application if it is not efficient and intuitive. The core of HorseCare24.com has therefore been designed and developed with this in mind. Fluid instant messaging based on a hierarchical conversation system by transaction and an intelligent posting system are some of the rich and essential functionalities that we have implemented in order to offer a usability that matches the ambitions of the project.
ADVERTISING CAMPAIGNS
+300% Click-Through Rate on Ads
To promote an application that operates in a two-sided market such as a marketplace, it is essential not to fail at launch. Advertising campaigns are one of the key points of customer acquisition and have been entrusted to our digital marketing experts. They created, tested and optimised Google Ads, as well as targeted ads on Facebook and Instagram. Accompanied by our video production specialists, they also brought to life several commercials, the ideal medium for promoting the platform's various services. The result: a constant growth in users and a 3-fold increase in CTR.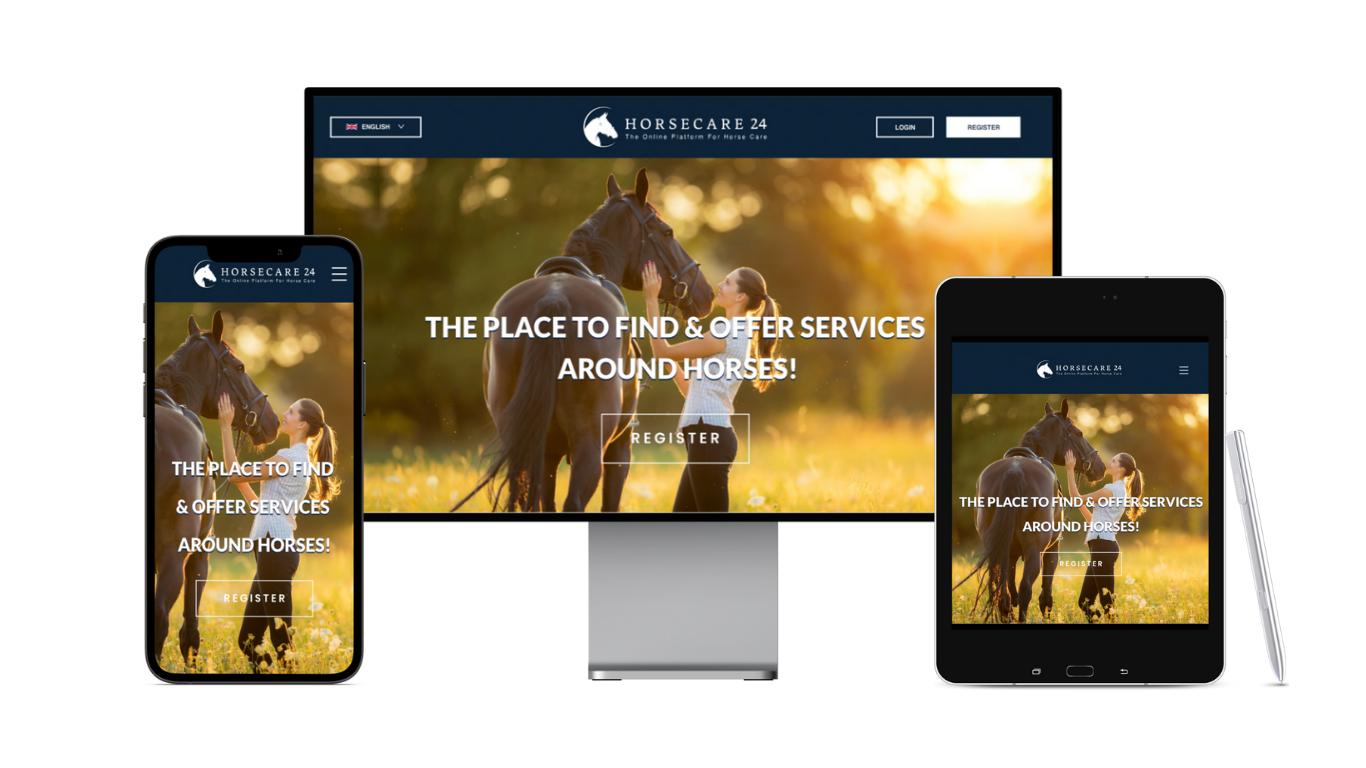 A Consistent Experience Across All Devices
It is crucial that users of a service of this size are able to access and use it in its entirety from different types of devices efficiently. We have therefore optimised HorseCare24.com for ideal use on all types of smartphones, tablets and computers. It delivers optimal conversion rates on all of these devices.
POST-LAUNCH
+2'000 Targeted Followers on Social Media
To raise the profile of the brand and generate effective word-of-mouth, our social media marketing specialists implemented high-value content distribution actions to attract relevant target audiences to HorseCare24.com's network pages. Result: +2'000 targeted followers gained in the first months after launch.
Want to Be Accompanied by Our Experts?
CONTACT US
Let's Talk About You
A few lines are enough to start the conversation! Write to us and one of our specialists will get back to you within 24 hours.
Let's Give Life to Your Project, let's Propel Your Company.
We are passionate about innovation, bright ideas and implementation that bring every project to life. If this is also your case, call or write to us to get started now.
SUBSCRIBE
Don't miss Our Strategists' Advice
Get our insights, the latest digital strategies and best practices in marketing, growth, innovation, technology and branding.
Make a difference, work with Edana.
Your 360° digital agency and consulting firm based in Geneva. We support a demanding clientele throughout Switzerland and create tomorrow's industry leaders.
With over 15 years of multi-sector expertise, our multi-disciplinary team orchestrates tailor-made solutions adapted to your specifics.
Contact us now to discuss your goals: