FOCUS ON OUR WORK
Mobile Application for Fide Exam Candidates
Established since 1976 in the heart of Geneva, the École Moderne (Institut la Pléiade SA) is a leader in the market of language and secretarial courses and training. As a partner of the State, it hosts and organizes the Fide test, Swiss language exams developed on behalf of the State Secretariat for Migration (SEM) and used for procedures related to foreigners and nationality law. The Institut la Pléiade contacted us for a consulting and development mission to launch a mobile application that would facilitate the learning of the French language and allow learners to train for this exam. A team of business consultants, designers (UX, UI and branding), engineers and developers was formed and took charge of the entire project cycle.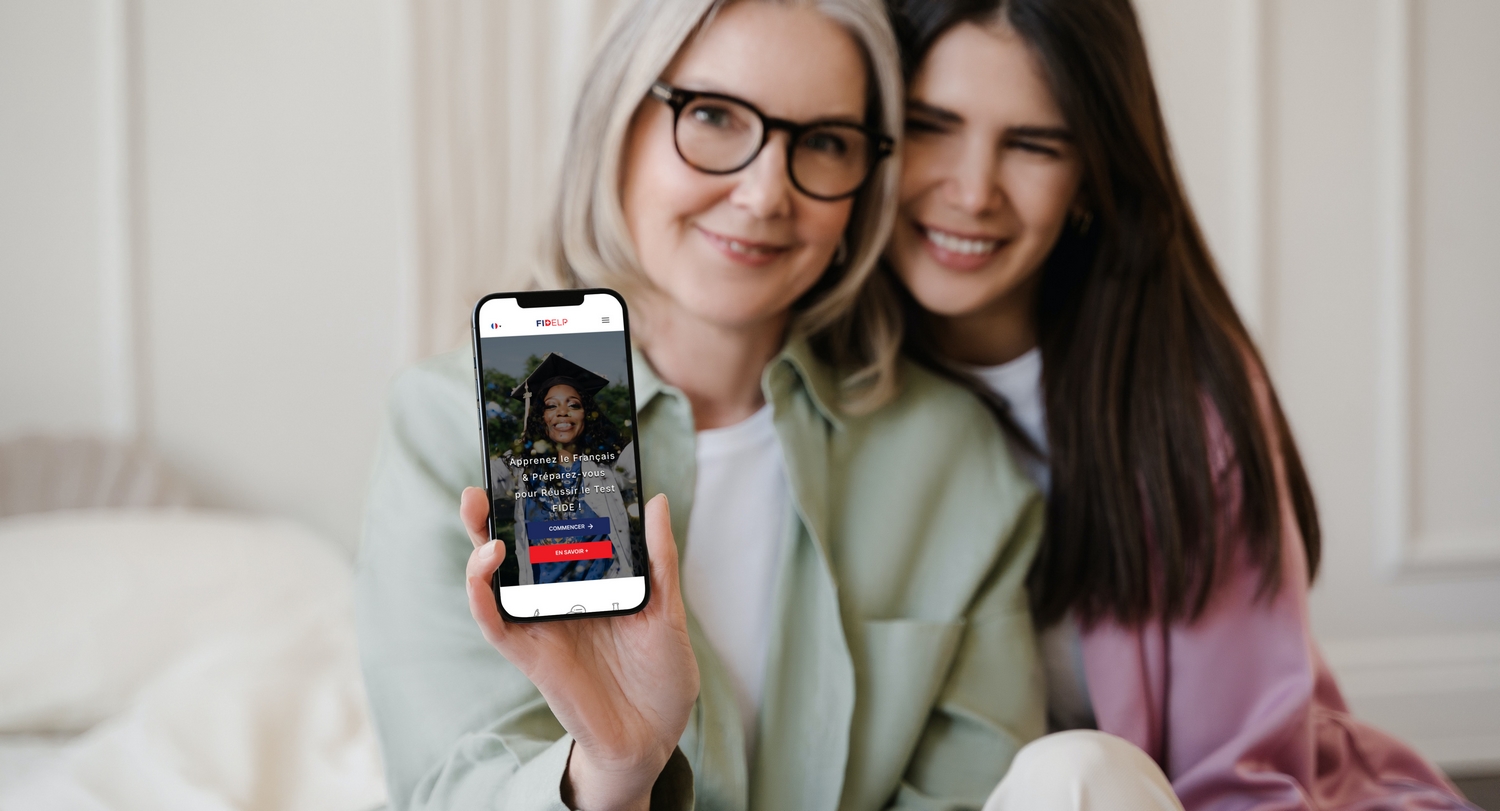 Positioning and Branding, Solid Foundations
Our business consultants conducted a study on the buyer persona and the e-learning market in order to determine an appropriate pricing and business model.
With a strong value proposition, it was also important that the company's target audience could integrate it quickly and effectively. To do this, our branding strategists carried out a naming strategy and a complete branding, from the color palette to the logo.
École Moderne is certified by the Swiss eduQua label, is a Fide Examination Center as well as a DELF DALF Preparation Center, it was crucial that its notoriety be reflected in the branding of its application.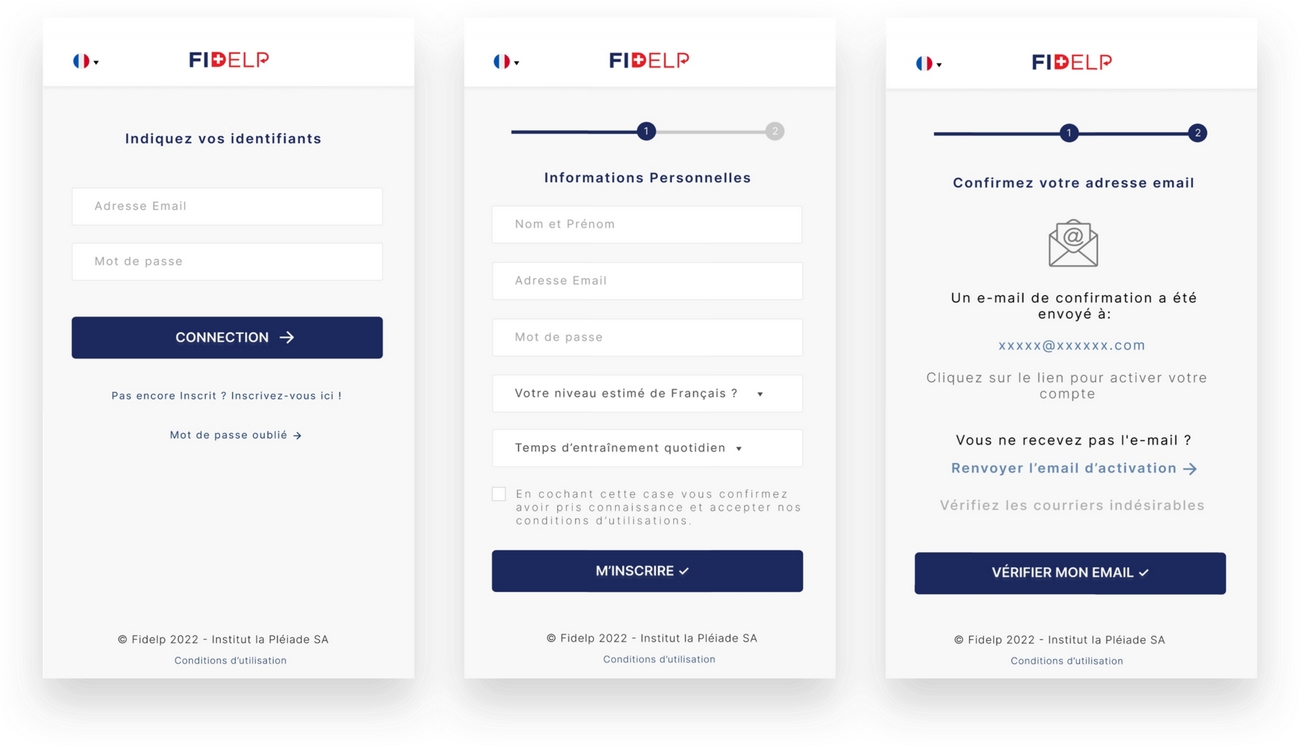 Funnels and Navigation Flows Designed for Optimal Conversion Rates
It is imperative for Fidelp to carefully convert its visitors into registered members, this is one of the first steps of its sales funnel. To this end, our user experience and interface specialists have developed navigation flows in the form of "wizards". Only crucial and strategic information is requested and the process is divided into a reduced number of steps. A double-optin email validation system has also been built to increase the market value of the collected data and to optimize the deliverability rate of email campaigns.
PROGRESSIVE WEB APP
A PWA Offers Flexibility, Organic Reach and Accelerated Time to Market
The Fidelp mobile application has been developed using web technologies, it is a Progressive Web Application (PWA). This allows it to be indexed by search engines and to benefit from organic growth opportunities (SEO). On the other hand, the development time and costs were reduced thanks to the use of this technology, which allowed École Moderne to put its product on the market more quickly and to allocate more budget to its marketing operations.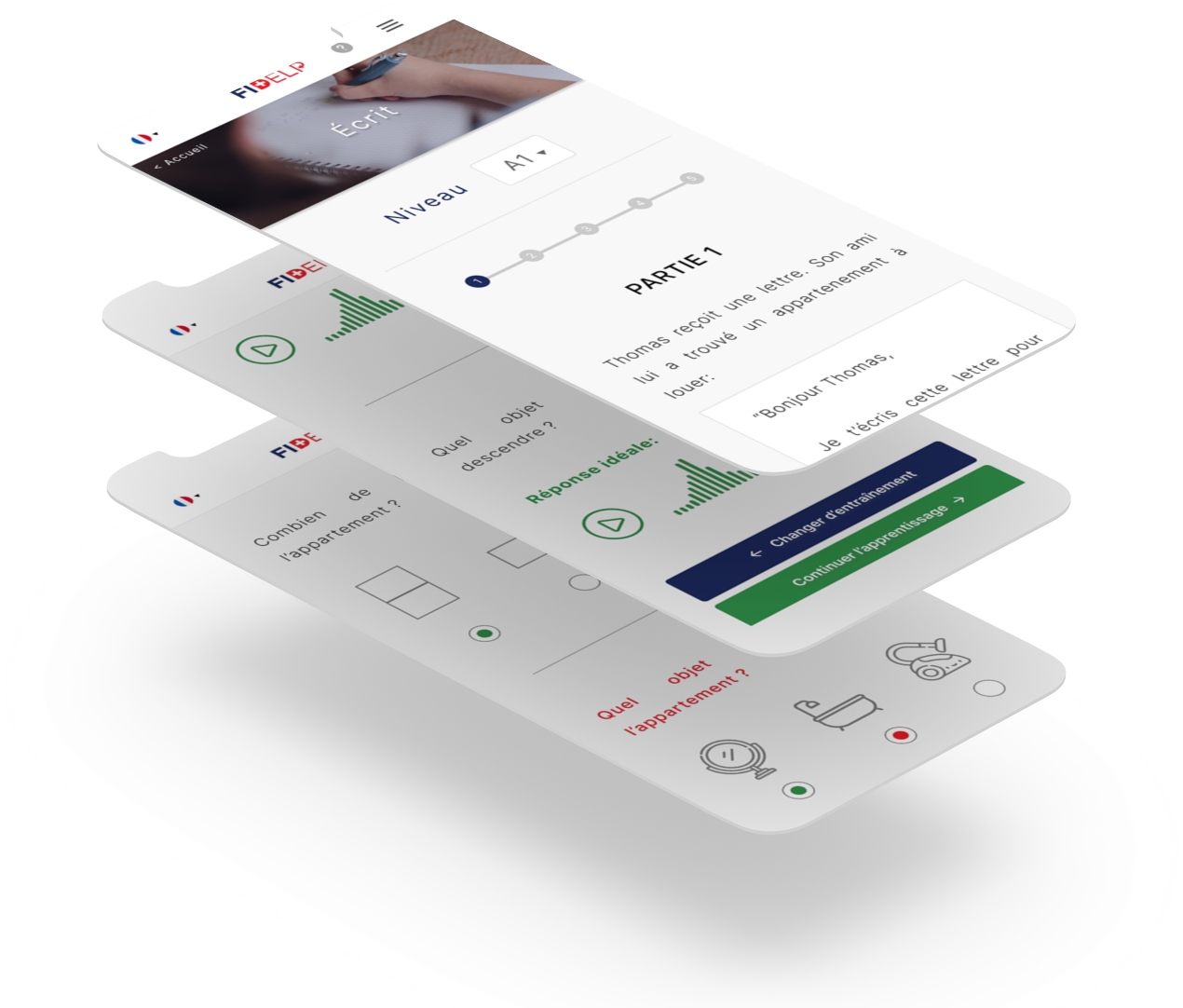 A UI that replicates Real Examination Conditions and a Dynamic Corrections Function
In order to re-create the exam conditions, the interface uses the Fide codes and presents the exercises in the form of playful and ergonomic modules. Our UX designer designed the flow of the application so that the user feels like taking a real Fide exam. A correction system shows the learner the mistakes he has made so that he can learn with each new training session.
SEO
On-Site Optimization For Search Engine Rankings
Unlike a classic application, a PWA has a definite advantage over its native counterparts, it can be referenced on Google. In order for Fidelp's marketing strategy to take advantage of this, our SEO experts assisted our developers in the creation of an HTML structure adapted to the acquisition of organic traffic.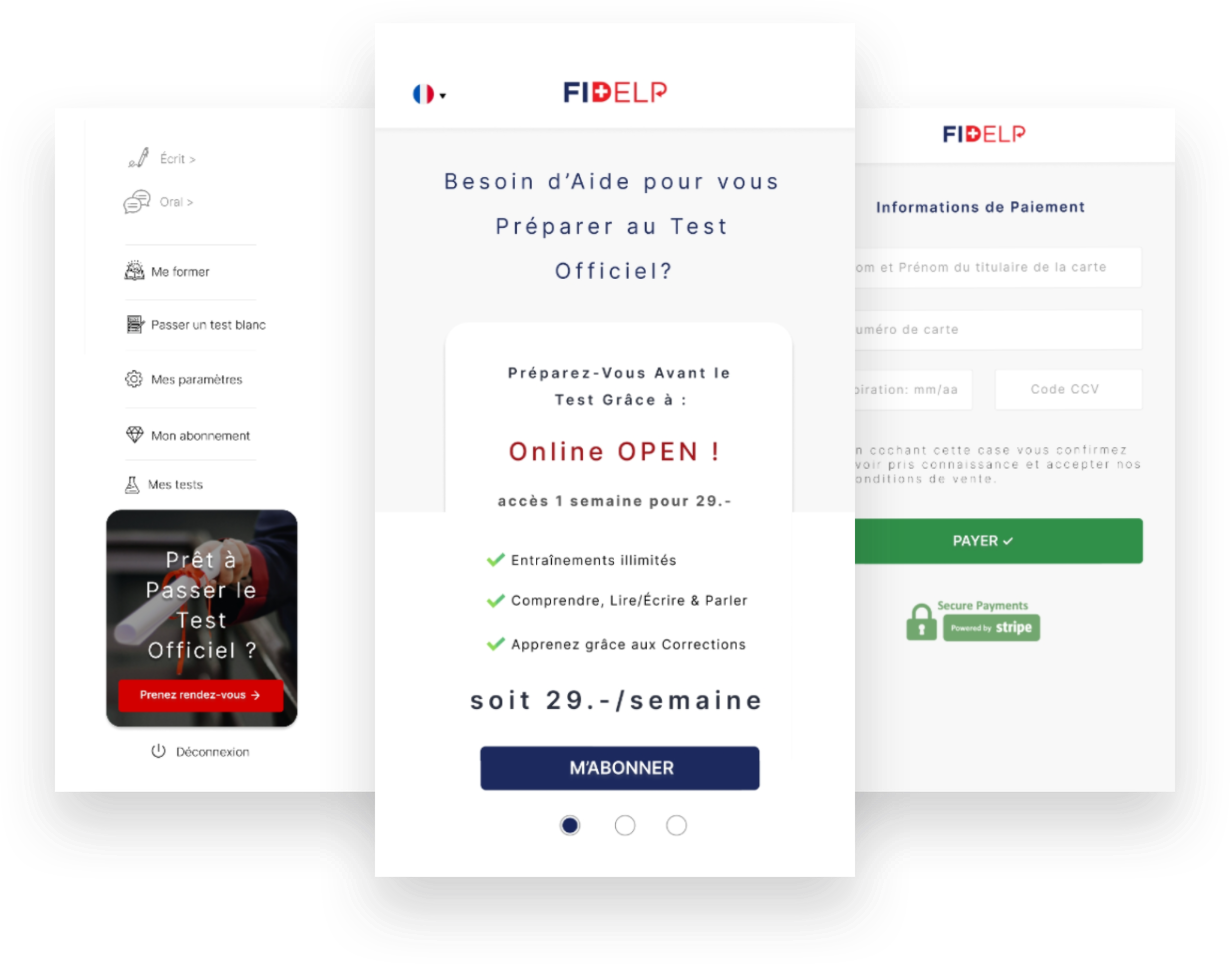 A Conversion-Friendly Payment System
In order to monetize the application, our consultants helped École Moderne in the search for adequate solutions. Pricings were strategically established and a paywall solution was implemented. The payment page was custom designed to process payment information securely without the user having to leave the application.
BUSINESS MODEL
A Hybrid Monetization Strategy for Rapid Growth
In order to make the Fidelp application profitable, our consultants helped École Moderne establish a specific pricing system. A self-reinforcing subscription system allows full access to language training on the one hand and a one-way ticket payment solution offers access to a mock exam system on the other. This monetization strategy offers the advantage of increasing the average shopping cart per user.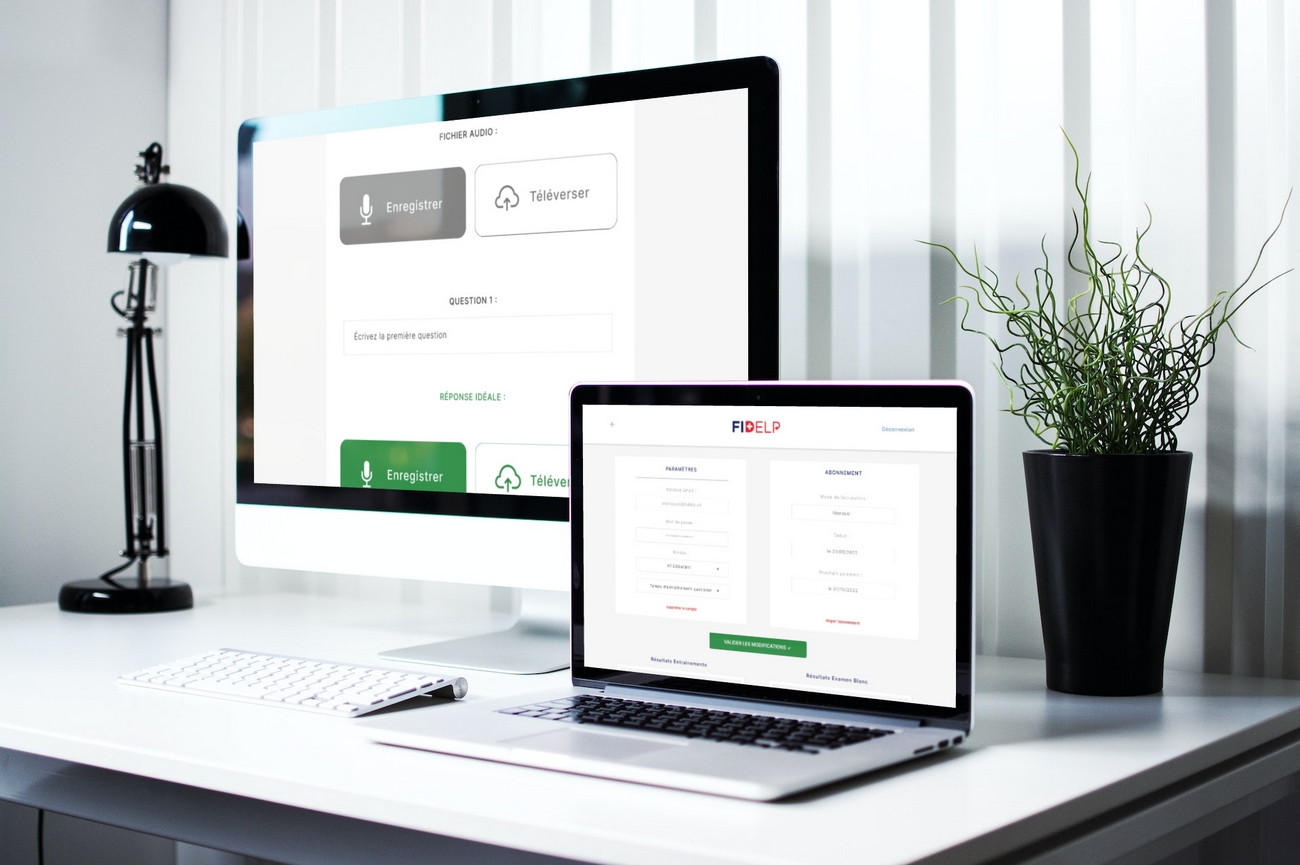 Powerful Administration Back-Office
In order to allow administrators and teachers to manage the application, our teams have developed a back-office solution adapted to their needs. From user management to the creation of customized tests, the operators of the service have a complete and ergonomic interface allowing them to enrich and manage the application and its content quickly, simply and securely.
Want to Be Accompanied by Our Experts?
CONTACT US
Let's Talk About You
A few lines are enough to start the conversation! Write to us and one of our specialists will get back to you within 24 hours.
Let's Give Life to Your Project, let's Propel Your Company.
We are passionate about innovation, bright ideas and implementation that bring every project to life. If this is also your case, call or write to us to get started now.
SUBSCRIBE
Don't miss Our Strategists' Advice
Get our insights, the latest digital strategies and best practices in marketing, growth, innovation, technology and branding.
Make a difference, work with Edana.
Your 360° digital agency and consulting firm based in Geneva. We support a demanding clientele throughout Switzerland and create tomorrow's industry leaders.
With over 15 years of multi-sector expertise, our multi-disciplinary team orchestrates tailor-made solutions adapted to your specifics.
Contact us now to discuss your goals: